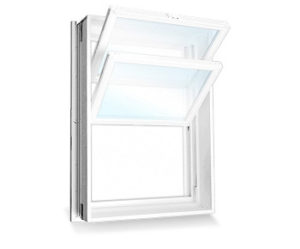 Energy Star Rated Products 

Lifetime Warranty
Double hung windows are widely recognized as the replacement of single hung windows. This type of window features offset lower and upper sashes, allowing them to slide vertically past one another and form a single casement. The ability of both sashes to operate vertically is what gives the advantage of this type of window over a single hung window. The lower sash can be raised to allow for fresh air, while the top one can be lowered for the same purpose. This is perhaps the most preferred and used type of window in contemporary house construction.
This type of windows are very easy to clean. The fact that both sashes can operate, allows the window to tilt for easier cleaning. This makes them a very popular choice for replacement windows in Ontario. Single hung windows, for example, are fixed and therefore not as easy to clean. Double hung windows are very versatile and stylish. They are available in our high quality vinyl material with additional features, such as transoms. Canadian Choice's modern technology allows for the inclusion of superior insulation which highly improves the energy efficiency of all types of windows that we offer.
Most importantly, for some home owners thinking of selling their houses, adding double hungs will guarantee you added value. In other words, if you choose to have our windows installed on your home, we guarantee the value of the house will go up. Canadian Choice windows are both functional and stylish!
The installation of a this type of windows, as well as others, can be done by our professionals very quickly. We would be happy to have one of our representatives come by your home for a free consultation. Feel free to contact us at any time, and we can have someone come out in the next 24 hours.