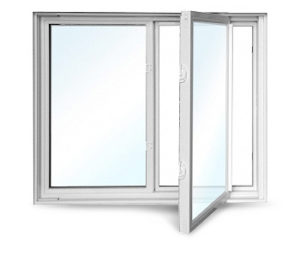 Energy Star Rated Products 

Lifetime Warranty
Horizontal sliding tilt windows are still very common in contemporary residential use. There are single and double tilt windows. The former has only one sash that operates by opening inwards and tilting while the rest of the window remains still. This is a rather simple, but elegant design which allows fresh air circulation into your home.
Due to the high quality vinyl that Canadian Choice uses, the window is also good for maintaining thermal efficiency. Our single windows are available in different vibrant colours and are mostly appropriate for the side of your home.
The double tilt windows are easily installed and capable of providing maximum airflow into large areas of your house. These windows are mostly preferred as a solution for space limited rooms. These are rooms where you cannot fit casement windows, bow windows or other exterior projecting windows.
The smart design on our double slider tilt windows allows for both sashes to tilt inward and permit an open view. In case of an emergency, you can slide both sashes to one side and release the semi-concealed recessed tilt latches. This will give you an opening large enough for you to escape.
Both, the single and the double are easy to clean. Their screens are also easily detached, should you choose to do so. We would be glad to come out and see you for a free consultation on either of the two windows.
Canadian Choice can have a professional come to your home, at a time convenient for you, in order to measure your window openings and suggest the necessary installation. This is all part of our free no obligations in home estimates program.