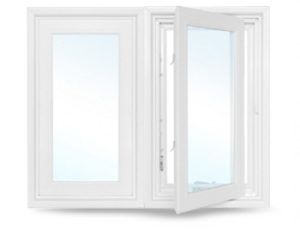 Energy Star Rated Products 

Lifetime Warranty
It is easy to distinguish a casement window, they all open like doors. The window is attached to its frame by one or more hinges, either on the left or the right side. The non-attached side is securely locked into place with latches. Even though their function resembles that of a door, the mechanism used to open them is usually a variation of a crank, not a door knob.
Much like with any product, there are pros and cons for installing such a window. The ability to fully open your window is great, if you are a person of the nature and you like to let in more air, or a bear, into your home. Catching those fresh breezes is an absolutely valid point for installing casements!
However, because the window opens outward, it exposes its edges to the rough Canadian climate more. Whether it is the sun, rain or snow, the frame gets weather-beaten faster than other windows. Of course, you should keep your casements closed when it rains or snows, but sometimes we forget, or it takes us time to react. A few such incidents each year could cause your windows a little more damage than it should. One thing to keep in mind is that the screens on the casement windows must be on the inside. This is so because the windows open outwards.
Another thing to keep in mind when installing a casement is that, unlike the double hung windows, they can only be locked and unlocked from the bottom. This is something to keep in mind if you have a little child in the home. Don't forget that these windows open fully! On this note, it is important to note that casements are much harder to break into. Their locks are hook shaped and embedded within the frame – practically untouchable.
Our vinyl casement windows are made using the same technology we use for all of our windows. Having such windows installed on your home is a matter of choice and preference. It is up to you to decide what kind of look you want on your home, and what is convenient for you and your family. We are always glad to give you a free no obligations consultation and show you homes with existing casements.