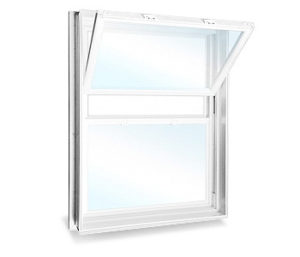 Energy Star Rated Products 

Lifetime Warranty
Some time ago, single hung windows used to be the norm in North American construction. Simply described, this type of window has two sashes, one on the top and one on the bottom. The top sash does not move, while the bottom one opens vertically.
Canadian Choice windows are designed with high performance and superior design in mind. Even though, double hung windows have become the newly preference of most home owners, their single cousin is still widely available on the market. One advantage, of such a fixed window, is its ability to limit the air intrusion.
This gives you an increased insulation from the elements. The reason is that there are not as many seams that need to be blocked with window seals. Essentially, this can give your single hung window a longer life span. Not something that you should be worried about, considering that Canadian Choice offers you a lifetime warranty on installation and product.
If this type of window is of interest to you, do not hesitate to contact us. We can have one of our well-trained professionals come by your house in the next 24 hours to provide you with a free no obligations estimate. Most importantly, we will bring a sample of our single hung windows for you to see and possibly compare. In addition, we will show you referrals and references of homes where Canadian Choice has installed the window of interest to you.