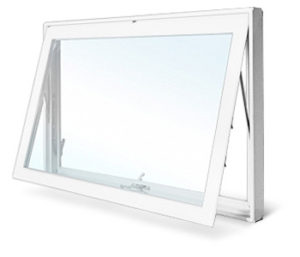 Energy Star Rated Products 

Lifetime Warranty
Awning windows have long been a popular choice for kitchens and dining rooms – and for a good reason. Unlike sliding windows, with awning vinyl windows you are able to open the whole area of the window instead of half of it. The awning is hinged at the top which allows it air to come in while blocking out the rain (Doesn't mean you should leave your windows open in a thunderstorm – be reasonable). The screens are placed on the interior of the window to block out pests.
Awnings create a graceful appearance with an easy-to-operate design similar to a casement window, it is usually controlled by a rotating handle. Another great advantage of this type of window is that it creates a perfect seal for excellent energy efficiency. The rubber or vinyl seal on the perimeter of the opening allows for an air tight lock around the window, saving you money on your energy bill. This tight lock also allows for a better security since this type of windows are harder to break into than sliding windows.
The higher security level is attributed to the fact that the sash cannot be lifted off with the chainwinder attached. Also, awning windows seal better then sliding windows, for example. The only downfall is that they might need a little extra outside space, in order to be opened. This is, of course, if they are located in the basement or the first level of the home.
Just like other lines of windows, awnings are typically made from sturdy pvc, triple sealed sashes, high quality strong fusion between frame and sashes and available in either double pane or single pane. They are also available in a variety of water-based finishes that will not fade or age prematurely and will do wonders to enhance the look of your home.
Even though awnings are little limited on air flow, they are usually just as popular as casement windows. New home builders certainly like to take advantage of that by placing them on the lower levels of the house. However, the inherent design of the awning allows it to be placed higher on walls than other types of windows. Often, you can find them placed even on top of patio or sliding doors. This way the home can enjoy some extra light and fresh air circulation. In addition, if placed higher on a wall, this gives optimal wall-space for a variety of design aspects, such as art and furniture.
These windows typically come in square or rectangle form with the width normally being greater than the height. Compared to other windows, they rarely break or need repairing. Also, the size can always be customized to fit any specific home and wall space.
One of the major disadvantages of this type of windows is that they are usually about 20% more expensive then sliding windows. This is so because of their higher security level and the relatively expensive chain winder mechanism. Additionally, awnings tend to be among the most energy efficient units, because of their ability to completely shut. In this respect, only picture windows are better, because they are factory shut and do not open.