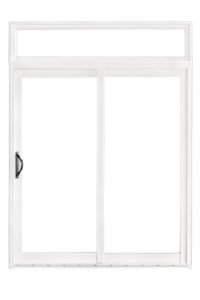 Energy Star Rated Products 

Lifetime Warranty
Vinyl frame sliding doors are extremely popular these days. Not only are they well-designed and stylish, but they are also resilient and energy efficient as well. Moreover, unlike French doors that open inward or outward, patio doors slide. This is why they do not occupy much space; so they are much in demand even if your home has little space to spare. Here are some of the benefits of installing vinyl sliding doors:
Sliding doors bring a unique transparency feature. This makes any room look more spacious, then it actually is. It works wonders for increased level of comfort. Sunlight comes streaming in your room, and the interiors of your house benefit from the natural light. Also, the use of Low-E glass in the patio sliding doors helps to keep the rooms warm by reflecting the heat back to your home and enabling the solar energy to go in.
In addition, our doors will protect you from the harmful ultraviolet rays and infrared rays. Your home gains better insulation, no matter what time of the year it is. With a variety of designs, shades and styles to choose from, vinyl doors are fashionable and useful at the same time. Environmentally and energy friendly, you cannot go wrong with a patio door from Canadian Choice.