Energy Star Vinyl Windows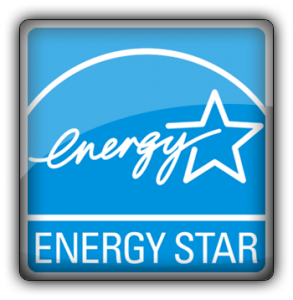 What Are Energy Star Vinyl Windows?
Energy Star is internationally recognized symbol for energy efficiency. In this respect, Energy Star windows refers to windows that are energy efficient. These are window products that will save you money on your monthly bills.
Energy Star simplifies your decision when you are purchasing windows and doors. When you find the symbol on any product you can be confident that the product exceeds the minimum energy efficiency criteria set by the government of Canada. It is not easy to qualify for Energy Star and a lot of companies fail to do so. At Canadian Choice we can offer you the highest quality vinyl windows made of the highest quality PVC. Better PVC means better isolation. Better isolation means more energy efficiency and lower monthly bills.
Canadian Choice Energy Star rated windows will not only give a great contemporary look to your home, but also protect you from harmful ultraviolet rays. In addition, our windows will reduce the noise from the outside, providing you with the ultimate sense of comfort. Our energy efficient windows are also maintenance free. You don't have to repaint them every two years once they are installed.
Saving Money With Energy Star Rated Products
How much money you can save with Energy Star qualified products depends on several things. First, how many windows you decide to replace. If you change all the windows in your home, you can save up to 7% on your monthly energy bills. If you choose to replace only a couple of windows here and there, it is very hard to be calculated.
Second, it depends if you have already done any renovations on the home with other Energy Star rated products. If the rest of your home is not properly isolated, energy savings can be less. Lastly, energy savings can depend on the age of the home. If you replace all the windows on your home with Canadian Choice windows, you can save up to 12% on your monthly energy bill.
How Does A Product Qualify For Energy Star?
There are strict technical guidelines in order to qualify for Energy Star. All tests for thermal and structural performance are government regulated. Products are qualified in one of two ways:
1. Based on their U-value. This is the rate in which heat transfers from a warm area to a cold area. In other words, U-value is the measurement of heat loss though a certain type of material (in this case vinyl).
The lower the U-value, the lower the less heat will escape from your homes. To give an example, a single glazed window with standard glass has a typical center pane U-value of 5.6. While a double glazed window with standard glass will have a U-value of 2.
2. Based on their Energy Rating. Here, we have a scale that takes into consideration the product's U-value, potential solar gain and air tightness.
All Energy Star rated product bear the Energy Star symbol. If in doubt, always check with the manufacturer.
WE ARE PROUD OF OUR STELLAR REVIEWS